Acculift has the certified inspectors and trained technicians to provide a thorough, accurate assessment of your lifting equipment – from jib cranes to overhead cranes, from floor to ceiling. We evaluate risks, identify improvement opportunities, safety concerns, deficiencies, and provide a written report with recommendations to address your issues. Our inspections satisfy all required regulatory requirements such as CSA Standard B167-96 Maintenance and Inspections of Overhead Cranes.
Our certified crane inspectors are experts in the required regulations and have years of on-site inspection experience, installation experience, and advanced crane installation training.
CALL 1 888 317 8880 to SCHEDULE AN INSPECTION
Our inspection process complies with and goes above and beyond CSA Z202 Standards and Provincial Standards (In Manitoba B167-96 Maintenance and Inspections of Overhead Cranes).
Please note: both Manitoba, Saskatchewan, and Alberta provincial authorities require yearly certified inspections of overhead lifting equipment to maintain safety standards. Acculift inspections provide all necessary documentation to comply with all provincial standards.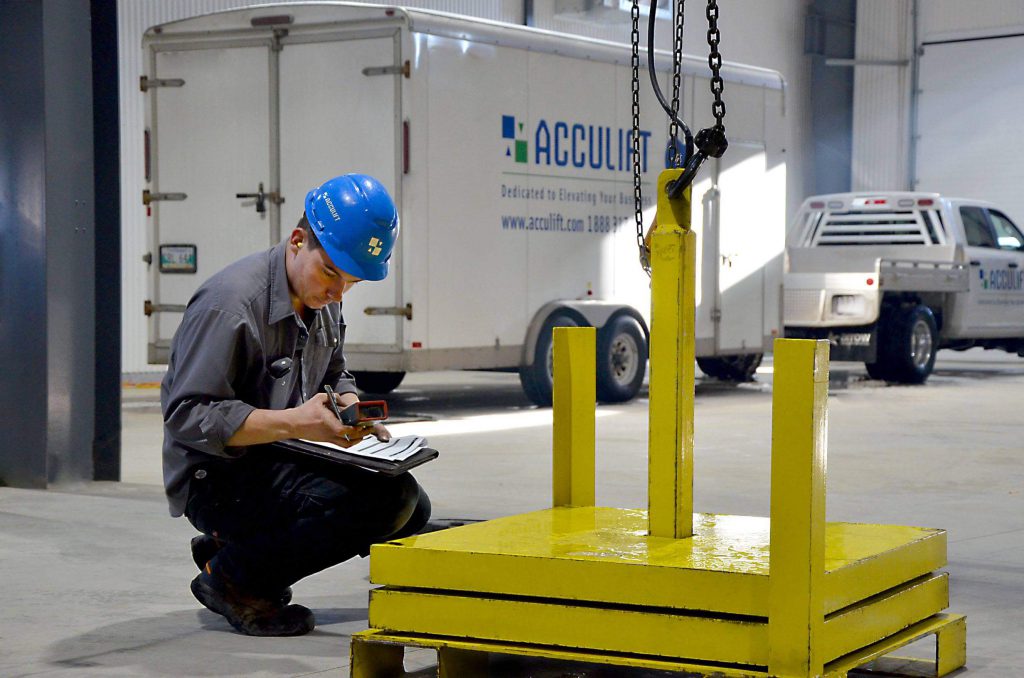 As your lifting equipment inspection team, Acculift provides:
Inspectors trained and certified by ITI,
Jib Crane Inspections,
Overhead Crane Inspections,
Monorail Crane System Inspections,
Hoist and Balancer Inspections,
All Crane Component Inspections,
Compliance with all government and insurance standards including ANSI, OHSA, CSA, Manitoba WCB and Saskatchewan WCB.
Suggestions, recommendations, and parts sourcing information,
Logbooks and inspections of existing log books for compliance,
Timely scheduling,
No Contracts, crane inspections as you need them when you need them,
Years of experience in crane installation, inspection, and operations.
Benefits of Crane Inspections
Prevent accidents and maintain safe operation of your crane,

Avoid interruptions in production,

Ensure efficiency throughout equipment lifecycle,

Address potential problems BEFORE they become huge problems,

Reduce overhead costs associated with parts, lubricants and tools,

Reduce downtime.