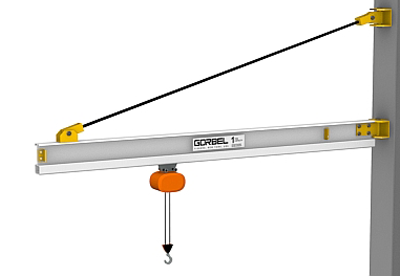 24 Apr

Product Spotlight: The Advantages of an Aluminum Tie Rod Jib Crane

An aluminium tie rod jib crane may be the answer for your workstation or work cell production needs. This type of crane is to be considered when an overhead bridge crane system can't be installed due to obstructions or as part of a larger work production lifting system.

Gorbel's aluminium tie rod jib crane utilize their patented light-weight, high-strength extruded aluminium enclosed track for its boom. This aluminium track reduces the rotational dead weight of the boom by up to 68%, making it 40% easier than a traditional I-beam jib to manipulate and rotate.
Features:
Capacities of 150lbs to 2000lbs,
Circular coverage area,
200 degree rotation,
Standard spans up to 20 feet,
Hoist trolley included.
Benefit:
Ease of movement and precise load positioning due to track design,
Quick and easy installation using existing structures,
Tie rod minimizes deflection for more precise positioning,
Aluminum jib is non-sparking and non-rusting.
Use our vast product knowledge to your benefit
and let us help you select the right system for your job.
We are Canada's leading supplier of high-performance lifting solutions and air purification equipment, offering quick delivery and installation times backed by the industry's best warranty. Contact us today to arrange a consultation, (204) 837 8367 or Toll Free at 1 888 317 8880.