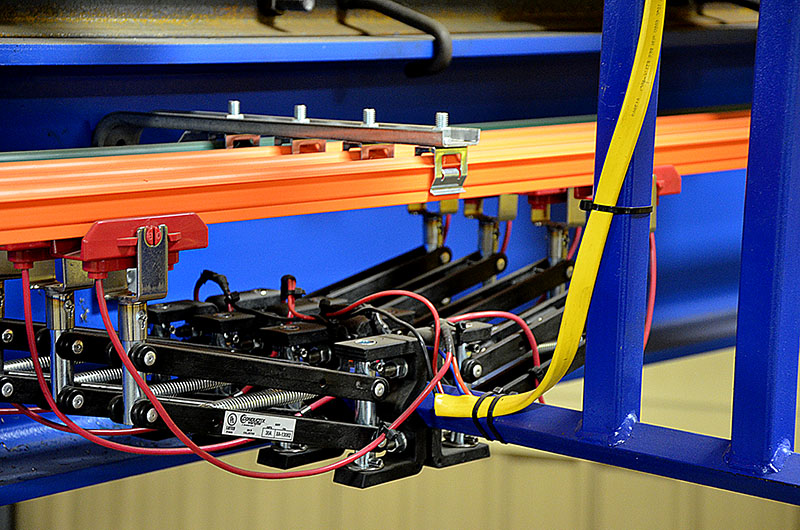 25 Mar

How Electric Overhead Cranes Receive Power
Power delivery to a lifting system: what you need to know.
Cable festoons, conductor bars, or cable reels are used to transfer power from the building supply to the crane runway and bridge crane control panel. The same components are then used to supply power across the bridge to the hoist trolley.
An operator controls the movement of the crane and hoists via push button pendants or radio remote controls. All of these components combine to allow the bridge and hoist to move into position over the load. Once the load is lifted, the push button pendant or radio remote control is used to drive the bridge crane to its destination and lower the load.
There are advantages and disadvantages to every electrical delivery system to a crane. The type of system will depend on your power needs, availability of power, size of the crane system, and the work environment itself.
Overhead Crane Electrification via Insulated Conductor Bars
Conductor bars (also referred to as power bars, figure eight bars or hot bars) are one of the most common methods of electrifying and supplying power to a crane and hoist. A conductor bar uses a sliding shoe collector system, which removes most of the exposed conductor safety hazards and can supply higher amperage power compared to other power systems.
Today, most conductor bar electrification systems are insulated with a cover. There are some applications where the conductor bar may not be insulated, but the most common types have insulated covers.
Components:
Conductor bar – the supply of incoming power and/or control along the runway or bridge
Power feed – attachment of incoming power to the conductor bar
Collector – a contacting device to collect the electrical current from the conductor bar and forward it to a machine
Brackets – supporting device for attachment of multiple hangers to the runway or bridge
Hangers – attach the conductor bar to the brackets
End cover – safety protection at the end of conductor system
Anchor clamp – supporting device for directing movement of conductors during thermal expansion and contraction
Advantages:
Conductor bar systems for overhead cranes can be used on both indoor and outdoor cranes and are most typically installed on the crane's runway systems or on monorail cranes. One of the main advantages of using a conductor bar system is that they can be used on runways with more than one bridge operating on them.
They're also very cost-effective and easy to install with many different types of brackets and hanger clamps. In addition, they are ideal for low headroom applications where cables cannot hang down, and for systems that utilize a curve or track switch.
One final advantage is that conductor bars are excellent for crane setups where future upgrades or expansions may be a consideration. Runway systems can be extended easier and with less cost because conductor bars are so easy to connect together for installation. Conductor bars are also the perfect solution for continuation of power in interlocking crane systems.
Disadvantages:
On a conductor bar system, one of the main disadvantages is that the collector shoes can wear out and need to be serviced or replaced often depending on the severity of use.
Another disadvantage is that a conductor bar system can never be utilized in an environment that requires an explosion-proof crane, and they should not be used to power transfer carts.
Overhead Crane Electrification via Festoon Systems
A festoon electrification system utilizes flat or round cable on a trolley traveling on a C track, square rail, or an I-beam. This method of overhead crane electrification provides direct contact, which provides greater resistance to wear on the system's components.
Festoon systems are extremely reliable and can be used in all kinds of applications from indoor to outdoor applications, high heat environments, and in other demanding environments like in mills and at port facilities. They can also be used to safely provide power and control for explosion proof cranes.
Festoon electrification systems are most commonly found on bridge cranes, but can also be used on other types of overhead cranes like gantry cranes, some forms of monorail cranes, and jib cranes. However, some types of festoon track may not be recommended for monorail setups where there may be curves in the rail.
(A) I-Beam Style Festoon System. (B) Track-Mounted Festoon System. (C) Square Rail Festoon system.
Types of Festoon Systems:
Track-Mounted Cable Festoon Systems – effective cable management in light to medium-duty applications. Track-mounted systems allow you to organize and move cables and/or hoses for power and control circuits. These systems are reliable, efficient, easy to install, and have low maintenance requirements.

Track material can be made out of galvanized, stainless, or sometimes PVC materials for corrosive environments.
Can be run indoors or outdoors in dusty, dirty, or corrosive environments, in high-temperature environments, and can be used for applications that require an explosion proof design.

Square Rail Festoon Systems – Runs on a square or diamond-shaped track. This type of track is especially useful in dirty or dusty environments, can be used indoors or outdoors, and will work for applications that require an explosion proof design.

Perfect for monorail cranes as it can be configured to work in a straight, curved, or circular track design.

I-Beam Cable Festoon Systems – ideal for medium to high-duty applications and environments. Different carriers available from basic economic versions to custom-design. Ease of maintenance and high-reliability in any operating environment. Pre-assembled systems are available for easier installation and are what we typically suggest for our clients.

Can be configured in a basic economical design or totally customized for specialized systems.
Built for demanding environments like steel mills, plants, and ship to shore cranes. They are simple to install and low-maintenance.
Advantages:
A festoon system organizes and allows the cable to stack up without twisting and the trolleys can accommodate multiple layers of the cable.
Festoon systems are easy to maintain and have a pretty straight forward design and operation. They are hard-wired to operate in harsh or extreme temperatures and environments and can be configured in basic economic designs to accommodate a few light cables or can be totally customized with more complex cable packages for heavier-duty applications.
Encoder cables (and other types of cables) can also be run to the hoist motor from a control panel on the bridge crane for special and unique applications. Festoon systems may also utilize "plug and play" electrical connections made of male and female pin connector sets that make installation simple and easy.
Disadvantages:
A festoon system is not ideal for use on runways that have multiple bridges. Each bridge must be wired separately which can cause complexities and isn't a very cost-effective design. In addition, monorail systems that utilize a complex curve or track switch cannot use a standard C track or I-beam rail for power delivery.
Additionally, if the crane has a long runway system or wide span, you can experience festoon cable stack-up which limits the crane or hoist travel near the end stops though this can be avoided.
Environmental factors must be taken into consideration to avoid wear on components. Proper materials for the cable and cable jackets need to be selected during the design and manufacturing processes to ensure a long operating life.
Use our vast product knowledge to your benefit
and let us help you select the right system for your job.
We are Canada's leading supplier of high-performance lifting solutions, offering quick delivery and installation times backed by the industry's best warranty. Contact us today to arrange a consultation, (204) 837 8367 or Toll Free at 1 888 317 8880. We have offices in Winnipeg, MB, Regina, SK, and Surrey, BC (serving all of the Greater Vancouver region and BC).