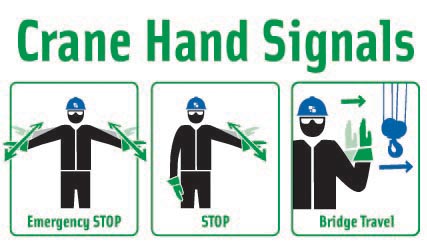 19 Apr

Understanding Crane Hand Signals for Overhead Crane Operations
Best Practises for Crane Signalling
The use of hand signals by operators of overhead cranes is crucial to safe operations, particularly on busy job sites. Provincial guidelines require that crane operators and signal personnel must know the hand signals used to direct the operations of the crane and that a poster explaining those hand signals be in a visible location to the operator.
The poster must be posted near the crane as a reminder to the operators. Work sites can have additional hand signals of their own but they cannot conflict with the agreed upon standard hand signals for operations.
The Role of the Signal Person
Qualified and trained signal persons must be present before the lift. Only one person should be giving signals to the crane operator unless it is an emergency stop situation – anyone can give the emergency stop signal to the crane operator. Before operating the crane the operator must be aware of who is the designated signal person.
Crane Signal Best Practices
Crane operation training will provide complete knowledge of proper use of hand signals for crane operation for your staff but here are a few tips to keep in mind for the signal person:
Hand signals are to be continuous during crane operation,
Always remain in a visible, direct line of sight, with the crane operator,
All signals are from the crane operator's perspective, not the signal person (for example, when the signal person is facing the operator a motion to move the load using his right arm will see the crane operator moving the load to his left),
If the signal is not understood, unclear, or cannot be seen by the crane operator they must stop all crane movement,
On double crane systems, a system of identifying which crane is to be used should be agreed upon before operations commence.
Voice Commands
Where ambient noise levels are low, audio commands can be used in conjunction with hand signals for further clarification of crane movement. Voice commands need to articulate direction of travel, speed or distance of the travel, and a stop command of the movement. Horn blasts have limited capabilities for communication and these three commands are typically the only ones that are used in industrial work sites:
Stop: One short audible signal,
Go Ahead: Two short audible signals,
Back Up: Three short audible signals.
Certified Inspections
Download our crane signal poster here for your job site. As part of our complete S.I.T.E. Program, Acculift provides posters of crane hand signals for your work site when you book an inspection with us. Or fill out the form on this page and we'll send a poster/sticker to you!
Proper training is crucial to proper equipment operation. Contact us, we will arrange certified crane operator training of your staff, either in a classroom or on your job site.