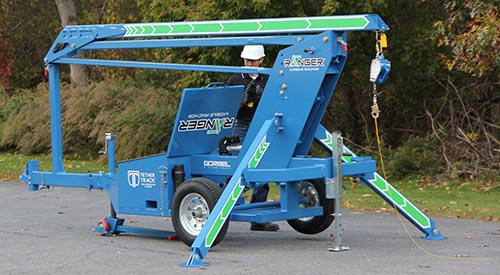 13 Nov

New Mobile Fall Arrest Tethering Technology – Ranger Mobile Anchor
Ranger Mobile Anchor – perfect for tethering at various locations.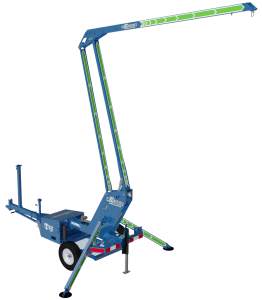 Acculift is excited to add the Ranger Mobile Anchor unit from Gorbel to our product line up. The Ranger Mobile Anchor provides a complete fall arrest system "on the go", a portable unit that that is perfect for use when maintaining aircraft, rail road cars, industrial equipment, or heavy machinery. If you can't bring the equipment to your safe tethering solution and you need to workers to go to where the equipment is located, this is your solution.
This unit can be easily moved into place and extended so that the anchorage point is directly above the user as work is performed. All components are readily accessible at ground level for quick adjustments, and the mast extends in a direct path for use in tight environments.
The design allows for quick attachment to a forklift truck, or related towing devices to position it where needed. In terms of a versatile tethering system, there is nothing else quite like it on the market.
And this means cost savings for your business. Moving large machinery around and into safe facilities is time-consuming and expensive in terms of man-hours. The Ranger Mobile Anchor moves to where you need your staff to be and that reduces wait times, reduces expense, and ultimately, pays for itself quickly.
Contact us for a demonstration today!
Combination of rugged steel and lightweight aluminum for superior strength/weight ratio,
Weight 2,685 lbs.,
Adjustable from height 18-22 ft.,
Max. capacity 310 pounds; Maximum Arresting Force 900 pounds,
Indoor/outdoor use,
Integral outriggers provide firm support on work surface,
Permits a 30-degree work area from anchor point,
Dimensions when towed: Length 15'3″, Height 6'6″, width 5'6″,
Dimensions in use: Length 11′ (excluding reach), Width of unit with outriggers extended 11′,
Stowaway Dolly permitting single user operation,
Automatic locking spring pin and automatic over center locking hinge for additional safety,
Large lockable storage bin,
Bubble levels.