Ergonomics is about a Safer Lift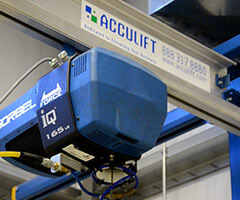 Ergonomic lifting systems fill the void between traditional lifting devices (such as a chain hoist) and completely automated robotic solutions – they are the custom solution that provides the highest level of safety and comfort for the operators. They enable operators to lift heavy loads and maneuver naturally as if the devices were an extension of their arms while providing a combination of pinpoint precision and blazing speeds that hoists and air balancers alone can't offer.
Using a combination of devices the ergonomic lifting process uses their human operator's intelligence and adaptability for guidance while the actual lifting work is done by the device. These systems help improve productivity, reduce the cost of product damage, and minimize work-related injuries such as repetitive stress injuries.