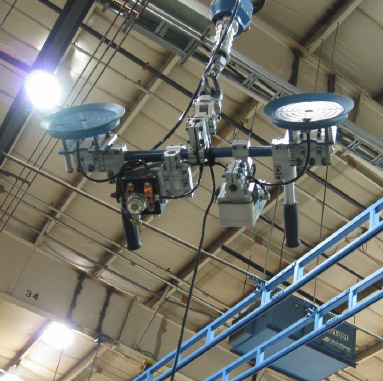 01 Oct

6 Benefits of Work Station Cranes

Workstation (or work cell) cranes are a proven way to improve productivity, increase quality, and provide a safer work environment. More and more, companies are using workstation bridge cranes to effectively solve their material handling problems AND improve the performance of their business.

Not only do workstation bridge cranes solve material handling problems, they also provide the operators and users with several benefits:
Increased productivity – Work Station Cranes help your workers work more productively than traditional I-beam cranes. A study conducted by the Human Factors Laboratory at Rochester Institute of Technology for Gorbel® shows that workstation cranes increase productivity up to 28 percent compared with I-beam cranes. The productivity increase is possible because bridge cranes require less effort to move than I-Beam cranes. In most applications, particularly high cycle time applications, customers are able to cost justify the crane system with the productivity increases alone.
Ease of movement and positioning – Workstation Bridge Cranes can move a load three times more easily than a traditional I-beam crane. This ease of movement and positioning results from the unique enclosed track design, high strength-to-weight ratio, and rigid runways with anti-binding end trucks.
Increased work quality – Enclosed track cranes can increase the quality of goods while reducing the cost of damaged or rejected parts. Loads are so easy to move and position with workstation cranes, much of the damage that is done to the product during the manufacturing process is eliminated.
Improved work force utilization – Workstation Cranes can help you reach the typical ergonomic goal in material handling: Allowing a task to be performed by 90 percent of your workers. For instance, the Rochester Institute of Technology study commissioned by Gorbel shows that less than 10 percent of men can safely handle a 4,000-lb. load on a manual I-beam crane, but more than 99 percent can do so on a Gorbel® Work Station Crane.
Modular design – A pre-engineered modular kit design permits easy expansion or relocation. The runway length can be increased by adding runway sections, freestanding support assemblies and additional bridges as needed.
Better workforce utilization – Since physical strength becomes less of an issue for your employees with workstation cranes. This is especially true considering that average age of the work force is higher than ever before.
You may have noticed other benefits when using workstation cranes. Please comment below and let others know what you've experienced.
Use our vast product knowledge to your benefit
and let us help you select the right system for your job.
We are Canada's leading supplier of high-performance lifting solutions, offering quick delivery and installation times backed by the industry's best warranty. Contact us today to arrange a consultation, (204) 837 8367 or Toll Free at 1 888 317 8880. We have offices in Winnipeg, MB, Regina, SK, and Surrey, BC (serving all of the Greater Vancouver region and BC).