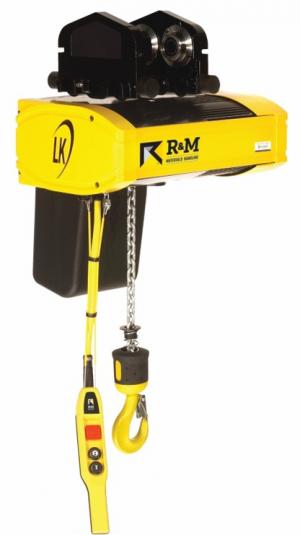 14 Jan

Product Spotlight – R&M LK Electric Chain Hoist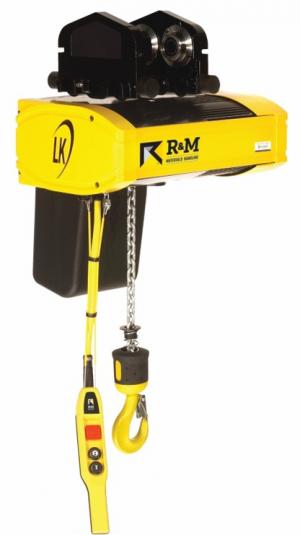 The innovative LK electric chain hoist from R&M is offered in capacities from 1/8 – 5 ton (125 -5000 kg). With the drive train originally designed to meet the noise and size specifications of the entertainment market it offers quiet running and a smaller design than most hoists.
Standard Features
1/8 – 5 ton (125 – 5000 kg) capacities
Single and two-fall models
10, 15 and 20 foot (3, 4.5 and 6 m) standard lift heights

Additional lifting heights available up to 98 feet (30 m)

Single or two-speed hoisting options
Inverter or two-speed controlled trolley options
Top hook, lug mount, push trolley, and motorized trolley suspensions
High-density polyethylene black chain container
PRQ pendant with an ergonomic pushbutton pistol grip
NEMA type 3R (IP55) protection classification
CSA C/US approval

60 Hz, 115 VAC models only
Less Maintenance
Many of the key drivetrain components of the LK electric chain hoist have been designed to last for the designed working period of the hoist, such as the hoist motor, motor brake and gearbox. The hoist brake is self-adjusting, so air gap adjustments are not required, and the hoist gearbox is permanently lubricated. When maintenance is required, the LK hoist is designed for ease of maintenance. The chain guide and sprocket are easily accessed from the outside of the hoist, and the electrical components are all plug-and-play connections for quick inspections and replacements.
Rugged Design
The LK chain hoist features an all pressure case aluminium body, which protects the electrical parts inside the hoist. The plug-and-play connection and rocker-style electrical limits are all housed inside the hoist body for improved protection, and cable gland entries are tested for maximum use to hold up to 400 pounds.  Additionally, R&M's LK hoisting gearbox meets a minimum AGMA 10 rating to bring you the best precision and durability available in the industry.
Safety
LK hoists are factory load tested at 125% the rated capacity and feature an innovative slip clutch overload device with the overload factory set at 110% the rated capacity. The slip clutch is easily accessible from the end of the hoist body. The rocker-style upper and lower hoisting limits also keep you safe and protect the equipment by preventing overtravel of the hook and chain. The LK hoist comes with maintenance and safety information created specifically for your equipment.
Use our vast product knowledge to your benefit
and let us help you select the right system for your job.
We are Canada's leading supplier of high-performance lifting solutions, offering quick delivery and installation times backed by the industry's best warranty. Contact us today to arrange a consultation, (204) 837 8367 or Toll Free at 1 888 317 8880. We have offices in Winnipeg, Regina, and Surrey.