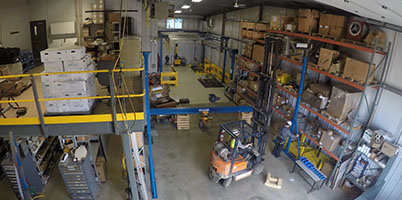 22 Nov

A Showroom Built for Clients Needs

"Try before you buy" tends not to apply to large capital expenses, especially for manufacturing and industrial processes. To address this issue, and to allow our clients a chance to see equipment in action, Acculift has dedicated a large portion of its operations to a warehouse-sized showroom. We've installed many of our key products here and are able to demonstrate their features easily.
Our showroom is definitely something that raises us above our competition. In it we can demonstrate all of the equipment we sell, provide operating training here, test our prototype design, and try out the latest equipment on the market. We can assemble products right here, before they are sent to customers, to make sure that clients only get the best solution.

Craig Logan, President
In our showroom, we have a large gantry crane (watch it being assembled here), an overhead bridge crane, and an articulating jib crane installed and with a host of different hoists and end effectors. We also have many different loads and materials available to show you that versatility of different load handling technology.
Often times our showroom is used within our demonstration videos as seen is this lifting demonstration of a vacuum lifter with a foam pad end effector (below the hook device).
Contact Us to Arrange a Tour
Our showroom is open during regular business hours and we'd love to arrange in-house product demonstrations at your convenience.