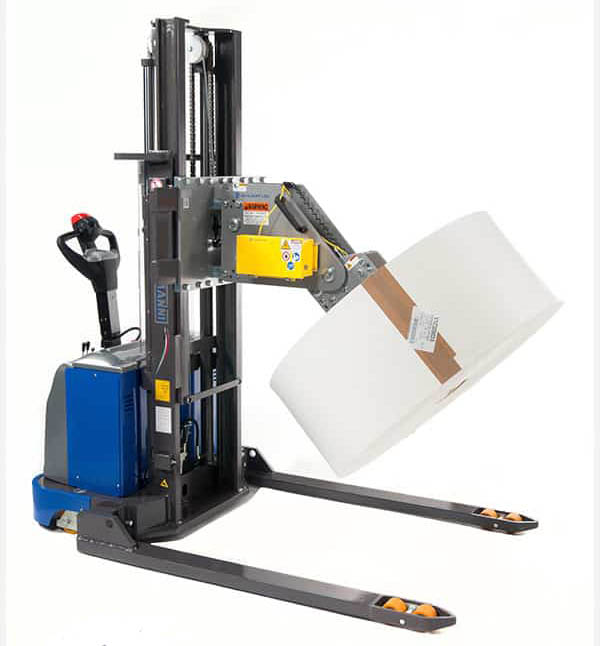 12 Sep

Delta Heavy Duty Portable Lift and Turn Roll Handler

The revolutionary Delta with 3000 lbs (1363 kg) forklift capacity is a precise and powerful battery powered walk behind roll handling machine. The Delta is used to lift and turn rolls by the core for palletizing, transporting and loading. Holding the rolls inside the core without contacting the valuable material reduces the risk of both material damage and operator injury, saving your company money and valuable resources.

With it's powerful Delta base truck, driving and maneuvering even in crowded work areas is safe and easy. Both the lifting and turning functions are powered by the truck's hydraulics. Lever control valves allow lifting and turning in minute increments, making precision alignments fast and easy.
Custom lift heights available.
Probe and clamp tooling available.
Custom tooling options.
Ergonomic Design.
Roll capacities up to 2200 lbs (997  kg)*
*Dependant on roll length, width and weight combined
Use our vast product knowledge to your benefit
and let us help you select the right system for your job.
We are Canada's leading supplier of high-performance lifting solutions, offering quick delivery and installation times backed by the industry's best warranty. Contact us today to arrange a consultation, (204) 837 8367 or Toll Free at 1 888 317 8880. We have offices in Winnipeg, MB, Regina, SK, and Surrey, BC (serving all of the Greater Vancouver region and BC).