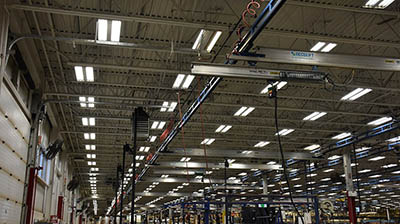 14 Jan

Why you should consider financing an overhead crane

IF you're considerng adding overhead cranes to your facility then you're considering increasing your production, increasing safety and growing to improve your business over the long term. As a critical piece of equipment for operations, an overhead crane is an investment that pays for itself over time but, let's be honest, it can be a significant upfront expenditure. There are ways to mitigate that, and small and mid-sized businesses can benefit from different financing methods.

Typically, leasing isn't thought of with overhead cranes as it is a semi-permanent to permanent building modification, yet it's a completely viable option for all sized operations.

Here are the top reasons why financing might work for you:
Preserve other lines of Credit
By financing your overhead crane purchase from other lenders other than your bank you maintain the ability to take advantage of other opportunities by keeping your banking credit options open to you.
Flexibility
Leasing companies are typically more flexible in options than banks are. Some lenders will customize a payback schedule to your cash flow ebbs and flows as well as varying payments based on accounting and tax schedules.
Bundling other costs
Many lenders will  bundle soft costs can be bundled into a lease. Such as operator training, freight, delivery, installation costs and more. By rolling in soft costs you can ensure you'll have the money to cover them and it won't disrupt your cash flow.
Stabilize monthly expenditures
By setting up a consistent monthly expenditure you will know exactly how much you'll be paying each month. This gives you a better understanding of what you can afford when it comes to growing your business.
More Equipment Options
Financing allows you to truly select the equipment you need instead of making cost-based compromises and not getting the overhead lifting system you really require. Because the monthly payment is a small portion of your total cost of the equipment, financing allows you to plan more for the future and select a higher-grade or more robust system that allows you to grow into your full potential.
Benefit from Inflation
For fixed term payments, if you owed the money before inflation occured, inflation actually benefits the borrower. If your company benefits from inflation, and you have fixed payments, you could use that benefit to pay off the loan early and avoid paying interest.
Plenty of Lenders to Choose From
Shop around! There are many financing companies that deal with many different lending institutions. Look for the most competitive rates, better terms, willingness to provide flexibility, and find out what other soft costs you can include in the loan. Many leasing companies will also bundle other hard costs into a leasing arrangement! Shop around and get your best deal that suits your needs versus your bank that won't have the flexibility in arrangements for loans.
Upgrade or Modernize
Older cranes can be improved to higher levels of usability and safety through an upgrade or refurbishment program, and you can finance this. Lease financing doesn't have to be for only new equipment. You can lease upgrades to an existing system. Contact your lender and discuss your plans with them, you'll find that they have many options that a bank will typically have in terms of what they will finance for you.
Pay Off Financing Loans Early for Big Benefits
Most lending institutes don't have pre-payment penalties. So, if you're able to pay off the loan before the agreed-upon terms, it won't cost you anything extra and will save you a significant amount of money in interest payments. This is particularly useful if your business revenue can increase significantly with the addition of new equipment but your receivables will be further down the line. Purchase and install the equipment now, make payments until revenues come in, then pay off the loans. You will avoid the interest charges you would otherwise pay. While not a strategy for every business, it may suit yours.
Use our vast product knowledge to your benefit
and let us help you select the right system for your job.
We are Canada's leading supplier of high-performance lifting solutions, offering quick delivery and installation times backed by the industry's best warranty. Contact us today to arrange a consultation, (204) 837 8367 or Toll Free at 1 888 317 8880. We have offices in Winnipeg, MB, Regina, SK, and Surrey, BC (serving all of the Greater Vancouver region and BC).