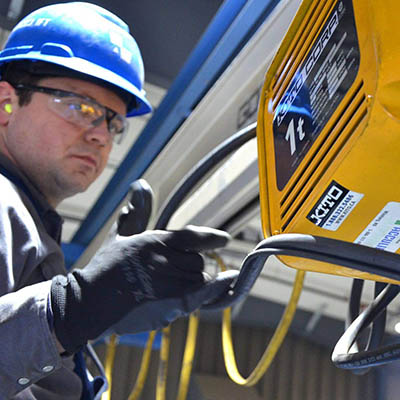 06 May

Inspections – What you need to know for lifting systems.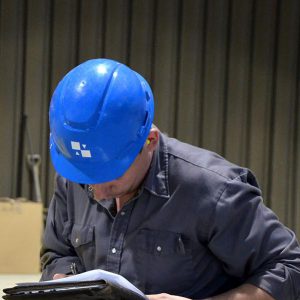 Inspections of equipment are vital for safe operations, but do you know how often your overhead lifting equipment needs to be inspected and what these inspections entail? Both daily and monthly inspections need to be done by the operator, while a yearly inspection needs to be performed by a certified crane inspector to be in compliance with federal and provincial regulations. Please contact your Acculift representative for additional details specific to your systems and equipment in regards to inspections.
On every overhead crane system installed by Acculift we provide a logbook detailing the necessary inspections and include the following:
All specifications for that system,
Daily and monthly inspection sheets,
General record for repairs and maintenance documentation – including inspection due dates,
Engineered crane drawing,
Manuals (crane, hoist, and below the hook devices).
Spare lockout tags.
DAILY Overhead Crane Pre-Task Inspection
At the beginning of every shift, Operators need to conduct daily safety checks for the overhead cranes/hoists they will be using. Begin by conducting basic visual safety checks before touching the controls. Then conduct equipment checks for the bridge, hoist, trolley and runways to ensure there are no loose, broken or damaged parts. Next, conduct safety checks for attaching and moving loads. Finally, provide any observations or recommendations that should be reported to the next operator, facilities manager, or safety official as per your company's processes. Anything worth reporting is worth recording in the General Record section of the crane log book.
With each crane system from Acculift, you will have received a logbook with the necessary daily inspection tasks.
Here is the checklist for pre-task inspections:
Do a visual safety check before operating,
Do a controls inspection (make sure all controls function properly),
Check hoist for visual damage,
Check below hook devices for wear or damage,
Report all concerns to your supervisor and note in the logbook for that system.
MONTHLY Overhead Crane Equipment Inspection
Hoists and balancers need to be inspected monthly by the operators to ensure performance is maintained. Use a template like this to perform a detailed equipment evaluation for overhead cranes. A great way to ensure your concerns are addressed promptly is to capture photos of defects and send to the Service Department at Acculift for review.
Here is your checklist for monthly inspections:
Check that the controls are properly labelled on the controls,
Check your safety/spring latch on your load hook and functioning properly,
Check for visible chain or cable damage or wear,
Visually check base plates, columns, structural components for accidental damage or wear,
Report all concerns to your supervisor and note in the logbook for that system.
YEARLY Overhead Crane Certified Inspection
Finally, each year you need an annual inspection with a certified crane inspector. This detailed inspection evaluates all facets of the crane operations and tries to capture all of the problems you may or may not have seen with your daily and monthly checks. A trained inspector will provide a detailed report on the condition of your equipment including estimates for repairs and can certify that your equipment is working within government requirements. You can book your annual certified crane inspection with Acculift.
During an annual inspection, our certified inspectors will perform a rigorous review of:
Supporting structures,
Bridges/end trucks
Hoists,
Trolleys,
Electrical Equipment,
Floor and remote control systems,
Wire ropes and/or load chains,
Load blocks and load hooks.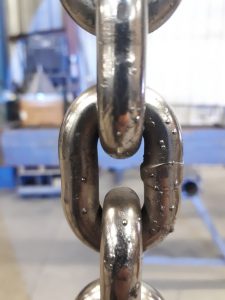 Can you spot the problem with this chain? Our inspectors did. Weld spatter on chain links or high heat (evidenced by marks on the chain) from welding can cause chains to become brittle and unusable. There are leather sheathes you can get that go over the chain to protect it in a welding environment that'll keep your lifts safe.
Use our vast product knowledge to your benefit
and let us help you select the right system for your job.
We are Canada's leading supplier of high-performance lifting solutions, offering quick delivery and installation times backed by the industry's best warranty. Contact us today to arrange a consultation, (204) 837 8367 or Toll Free at 1 888 317 8880.