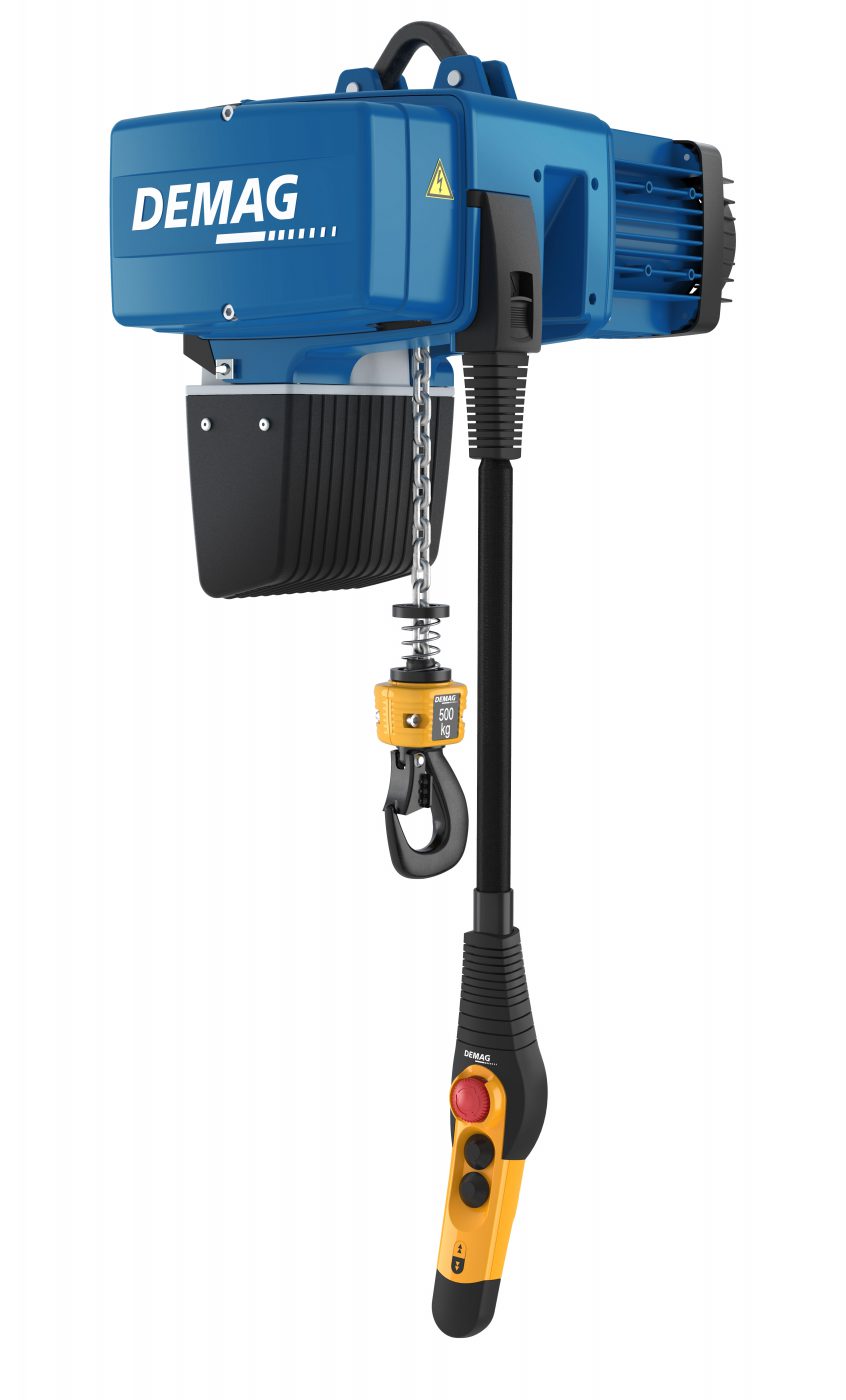 19 Nov

Product Spotlight – Demag DC-PRO Chain Hoists

The DC-Pro chain hoist is a fully-featured, highly versatile chain hoist, which can be installed and put into service in minimum time. With many built-in features, this hoist has a very high value to price ratio.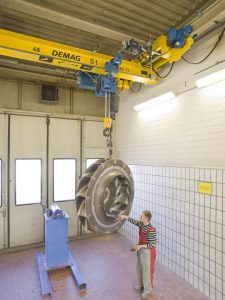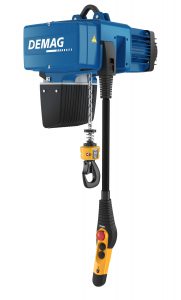 High-performance equipment
With this hoist the "extra" features are standard and so are two lifting speeds. With a 24V control, operating limit switches in upper and lower range, an elapsed operating time counter, this hoist has all the premium features built-in.
It also features:
Aluminium housing components with powder coating,
Duty factor: 60% (40/20), 360 starts/hour,
Signals for applications with three motion axes,
Suitable for tandem operation,
Comprehensive selection of finely graded load capacities up to 5,000 kg,
Suspension brackets for improved C dimension (for sizes DC 1–10).
Long service life
Gearbox, brake and slipping clutch are maintenance-free for up to 10 years (DC-Pro 10–25 brake for up to 5 years),
Low-wear brake thanks to regenerative braking,
Brake adjustment is not necessary,
No load dropping thanks to slipping clutch arranged in front of the brake in the load-bearing arrangement,
Reduced chain wear thanks to 1/1 reeving for loads up to 1,000 kg,
Robust cylindrical-rotor motor with fan and separate DC brake,
No brake bonding thanks to double encapsulated brake.
High operating reliability
Standard requirements satisfied for functional safety,
No continuous slipping thanks to slipping clutch with automatic cut-out,
24 V contactor control with internal "tri-state" signal transfer,
Chain hoist and travel drive feature IP 55 enclosure, insulation class F,
Automatic braking if the control system fails.
Optimum egonomics
Height-adjustable DSC/DSC-S control pendants with low-fatigue actuation force,
Control cable length and control pendant position can be adjusted to meet specific needs on site
(without any need for wiring),
Pivoting suspension bracket enables the chain hoist to be attached when the trolley has been fitted.
Service-friendly
"Plug & Lift" and "Plug & Drive" for all electrical connections,
Elapsed operating time counter, status and error messages shown on display,
Infrared diagnostic interface with IDAPSY software (to read out and manage specific data),
Service cover for rapid access to plug connections, strain relief arrangements, collector for 3 m control cable and chain drive,
Chain lubrication through lubrication opening in the chain guide for improved lubrication between links (sizes DC 1–10).
Reduced downtimes as chain drive can be replaced without dismantling motor or gearbox parts.
Download the technical specifications for the Demag DC-Pro Chain Hoist here.
Safety
Low-voltage control pendant thanks to 24 V contactor control system
Safety-related functions satisfy at least Performance Level c and Category 2 to EN ISO 13849-1
Minimum load sway
Smooth cross-travel starting and braking motions for low-sway load handling
Speeds and acceleration/braking rates can be modified by means of the control pendant, if required
Long service life
Generously specified gearbox. 2m+ (1,900 hours) for main load capacities and up to 4m (6,300 hours) for demanding applications
All sub-assemblies of the chain hoist are rated for a long service life, even under the most demanding conditions
Temperature range
Reliable operation from -20 °C to +45 °C without any reduction in the duty factor
Operation also possible up to 60 °C and more
Ergonomics
Length of control cable or position of control pendant can be adjusted without the need for any wiring
Length of control cable that is not needed can be stored under the service cover
High-performance motor
Hoist motor has large safety reserves to provide for reliable operation for many years
Can be used for switching cycles way beyond usual market levels
Pro-Hub function
Up to 90% higher rated lifting speed in reduced load range
Easy to service
Gearbox & slipping clutch maintenance-free for up to 10 years
Brake maintenance-free for up to 10 years (up to 5 years for DC 10–25)
Simple and rapid maintenance and repair of individual components thanks to the modular chain hoist design – cuts any downtime to a minimum
Variable speeds
Valuable and sensitive parts can be moved and positioned more smoothly and reliably
Variable button characteristic like a car accelerator pedal
Status display
Display for elapsed operating time counter and operating statuses
Always up-to-date for service purposes
Slipping clutch monitoring
Harmful continuous slipping eliminated thanks to speed monitoring
Reliable protection against extreme overload
Load securely held in any operating situation and cannot drop while hoist is at standstill, since brake is arranged in front of the slipping clutch in load-bearing arrangement
Low noise level
Reduced operating noise thanks to helical gearing in all gearbox stages
Smooth running characteristics thanks to high-quality gearing
Online product configurator
Easy to use
Specify products to meet your needs
Save your configuration
Immediate results
Online ordering via Demag Shop
CAD geometry data
Configure 2D or 3D geometry data online in many file formats
3D PDF for rapid view without CAD program
Information available 24/7
Whenever you want
Up-to-date information
Product description
Technical data
Circuit diagrams
Documents
Use our vast product knowledge to your benefit
and let us help you select the right system for your job.
We are Canada's leading supplier of high-performance lifting solutions, offering quick delivery and installation times backed by the industry's best warranty. Contact us today to arrange a consultation, (204) 837 8367 or Toll Free at 1 888 317 8880.