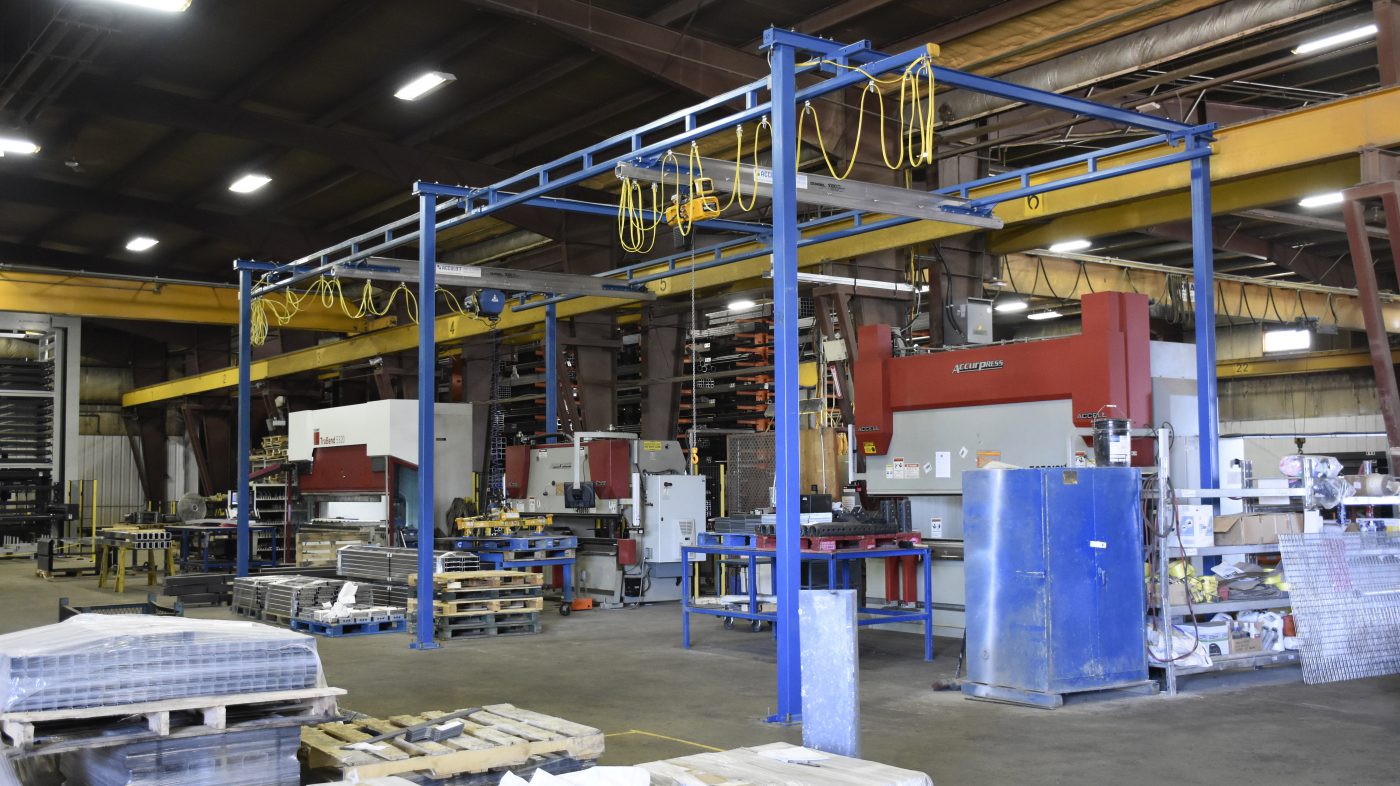 19 Jul

The Parts of a Jib Crane
All you Need to Know

To increase your understanding of Jib Crane components here is a list and explanation of the most common parts of any jib crane lifting system. You can view the parts of a workstation crane here. If you have any questions pertaining to your unique lifting requirements, please contact your Acculift representative.
Boom or Swing Arm
The Boom of a jib crane supports the power, hoist, festooning, and more of the crane. Typically they rotate at the mast (or wall if wall mounted) and can have an articulation point to allow handling of loads around obstacles and for freer, easier movement of loads. Power can be built into the boom or with boom's with trolley's to reposition the hoist, which will have festooning to supply power to the hoist.
Mast
The Mast of Jib Cranes are usually floor supported with some models are capable of 360° rotation via a top and bottom bearing assembly. Masts can be installed directly to most manufacturing facility floors, depending on size, load, and the floor itself. Not all jib cranes have masts, some are wall mounted to structural components of the building (if the building's structural components can support it, an inspection by an engineer or engineering drawings to confirm this would be required.).
Electrification
The amount of power and power availability dictate the electrification system needed for a lifting system. Festooning systems are used when the hoist is repositionable), insulated conductor bars, and power boxes bring power from the building to the lifting system. Some jib cranes will have self-contained power systems.
Air or Pneumatic Components
A cost-effective lifting solution found in many receiving areas is an air-powered vacuum lift system for your jib crane. Users can quickly disassemble a palette of boxes this way. Powered air systems connecting to a vacuum lift end effector allow for speedy handling of product.
Hoist
The hoist is what creates the lift in lifting systems by holding, raising, or lowering, the load using wire rope or chains. Hoists can be hand-powered, electrical powered, or with compressed air (pneumatic). Choosing the right hoist for your lifting is crucial to having a system that will meet your lifting needs.
Controls
Some jib cranes will have controls for the hoist and end effector (most work-station jib cranes for tools do not have separate controls and simply "float" the tool or end effector with a balancer or a GForce system from Gorbel). Controls can be mounted, battery powered remotes, or a hanging pendant variety. The controls operate the drive and hoist motors to control the hoist and the speed for precise load positioning. Most crane systems can be retrofitted with remote pendants (remote operation is a safer alternative in many situations).
Hook
The load is supported using a hook which connects to the hoist and to the end effector. From our experience in inspections, the latch is the part that most often needs replacing.
End Effectors
End effectors are the "grab" or hands of the jib crane. They can be as simple as cabling or strapping but end effectors are most effective when designed to lift YOUR specific load. A custom end effector for your load lifting is safer, faster, and more precise. Your Acculift representative can show you what custom below-the-hook options are suitable for your jib crane and you can see some of the many options available for end effectors right here.
Use our vast product knowledge to your benefit
and let us help you select the right system for your job.
We are Canada's leading supplier of high-performance lifting solutions, offering quick delivery and installation times backed by the industry's best warranty. Contact us today to arrange a consultation, (204) 837 8367 or Toll Free at 1 888 317 8880. We have offices in Winnipeg, MB, Regina, SK, and Surrey, BC (serving all of the Greater Vancouver region and BC).