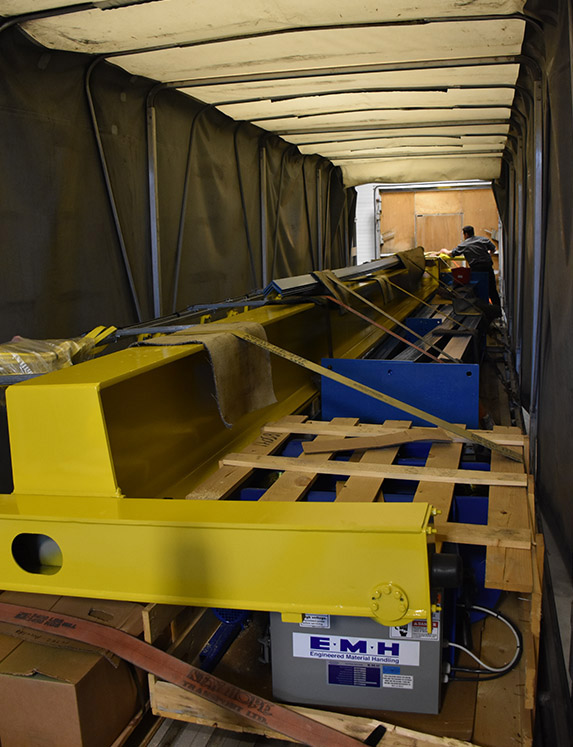 13 Nov

Receiving Crane Components – a guide for your shipping department
Be ready to accept the delivery of large crane components.
You've worked with our team, we have the perfect system designed and ordered and it's on its way. Now what? Crane components are huge and most facilities receiving departments aren't set up to handle a truckload of runways, crane bridges, parts and more dropping on their doorstep. Here's what you can do on the receiving end to minimize the time it takes to process the load and help us get the lifting equipment up and running faster. We also realize that all shipping departments are different and have their own processes, these are suggestions and processes that we have found that work best but we will always work with you to ensure a speedy delivery of your crane.
When moving parts off of the truck bed:
Take the time to find the center of the load – physically measure center point of each piece other than palletized components – as opposed to guessing and increasing the risk of tipping the beams,
Keep the center of gravity below the forks – lift from the highest point possible on the component,
Using even ground to unload is key to moving crane components – any tilt is magnified at the end of the beam when you hit a small bump with the tires,
Once unloaded, remember to protect the crane from the environment – please ask if it is suitable for received goods to stay outside as some components aren't suitable for outdoor conditions. Usually we will have reached out and informed you if this is the case.
On the entire shipment:
Bear in mind that we often ship components with the crane system, for example, hoist(s), grout, anchor bolts and hardware, etc., in a red tote or similar, so keep all parts from the load together as much as possible. If we have to search for shipped components it will slow down and possibly stop the installation. As we try to accommodate your schedules when we make the installation schedules, it's in both of our interest to be as efficient as possible.
Strapped down and ready to be shipped. Are you ready to receive them?
Use our vast product knowledge to your benefit
and let us help you select the right system for your job.
We are Canada's leading supplier of high-performance lifting solutions equipment, offering quick delivery and installation times backed by the industry's best warranty. Contact us today to arrange a consultation, (204) 837 8367 or Toll Free at 1 888 317 8880.