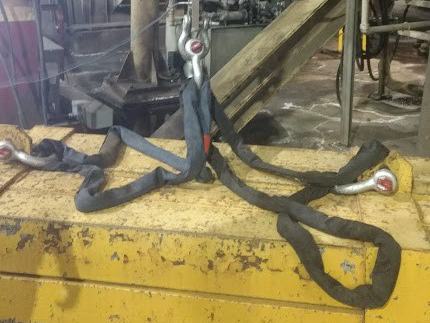 16 Nov

Product Tips: The Sling is the Thing

A lifting sling is a below the hook device that is used to secure and lift loads. Using the proper sling for your lifting needs will ensure a safer lift. There are many types of slings and all can be custom built to the size required for the load. In the video below we take a closer look at these four types of slings:

Nylon slings are very versatile, they don't mar the load, and are inexpensive. They are easy to adjust and can properly lift awkwardly shaped loads. However; nylon slings wear quickly and need to be replaced more often than other types of slings.

Chain slings can be used to extend a lift's reach, to lift the load, or added to other slings. While heavy, chain slings offer the best strength, durability, and flexibility.

Wire rope slings are often used when a long sling angle is required as they are strong yet light-weight making them easier to handle. Wire rope slings have limited flexibility and care must be taken to avoid kinking the wire rope.

Wire mesh slings are widely used in metalworking environments. Adapting to the load shape they are ideal for bundles of steel or for oddly shaped metal applications. Due to their construction, they wear well when handling abrasive product.

Only qualified personnel should ever use lifting equipment. Contact Acculift to arrange operator training for your facility.
Use our vast product knowledge to your benefit
and let us help you select the right system for your job.
We are Canada's leading supplier of high-performance lifting solutions and crane equipment, offering quick delivery and installation times backed by the industry's best warranty. Contact us today to arrange a consultation, (204) 837 8367 or Toll Free at 1 888 317 8880.