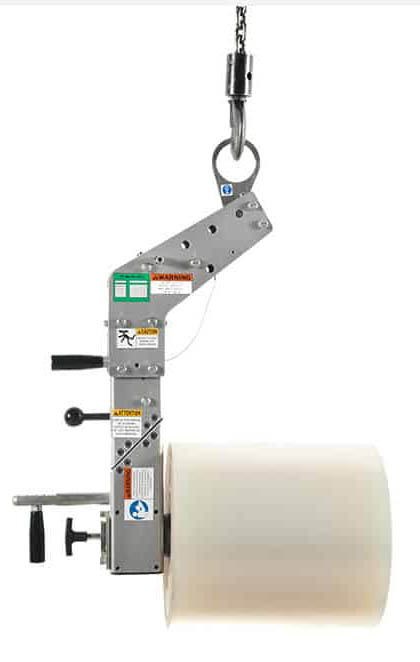 18 Sep

Manual Roll Turner – custom configurations available
MRT-330 Manual Roll Turner
The MRT-330 is our standard in hoist based roll turning. With easy to use controls and great flexibility, this machine will be sure to make your process much more efficient and safe!
Most often used with standard roll handling mandrels the MRT-330's amazing turning function enables operators to turn even heavy loads with minimal effort and no external power source. Supplied with a movable hoist point mechanism the MRT-330 can quickly be adjusted for varying roll widths to ensure exact horizontal and vertical positioning. Rolls can be turned as quickly as the operator can move making for safe, rapid handling of your valuable product. By removing the need to "manhandle" heavy loads the MRT-330 reduces the risk of operator injury and fatigue making your work place safer and saving you money.
Various capacities (up to 330 lbs) are available, ask your Acculift representative for details.
Use our vast product knowledge to your benefit
and let us help you select the right system for your job.
We are Canada's leading supplier of high-performance lifting solutions and air purification equipment, offering quick delivery and installation times backed by the industry's best warranty. Contact us today to arrange a consultation, (204) 837 8367 or Toll Free at 1 888 317 8880.