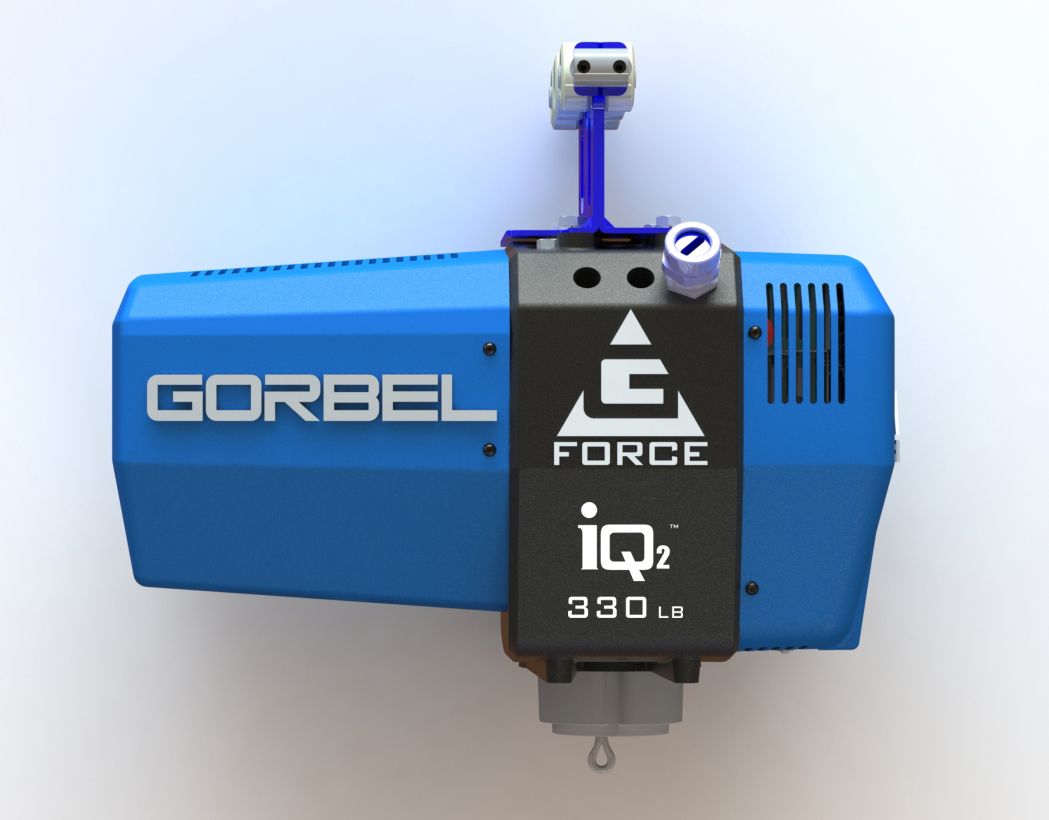 12 May

Gorbel debuts G-Force iQ2 and Q2 with impressive new features.
Available from the manufacturer on June 8th, Gorbel has developed new G-Force packages containing the most advanced features on the intelligent lifting market.  Known as the Q2 and iQ2, the new units will be available in capacities up to 1320 lbs. and Easy Arm capacities up to 660 lbs. These newly designed intelligent lifting devices feature:
What makes these new units so exciting?
Float mode has been upgraded with a new ease-of-use Auto Float feature. Auto Float is a seamless transition mode that does not require the operator to press a button to engage float mode.
Crisp new OLED higher resolution handle display is easier to read and allows for selecting and displaying multiple languages.
The new method of changing settings from the handle adds a "button press to confirm setting" feature and is more user-friendly.
Two Inputs and two outputs are now included on the handle of Gorbel®'s full-featured base model Q2 Intelligent Lifting Devices. The Q2 has more customizable handle-based I/O options to control a wider range of applications than the previous Q unit.
The new Smart Connect User Interface now puts unprecedented customization and control at your fingertips.  With the use of any computer or tablet, the user can now connect to a G-Force® or Easy Arm® with a Wifi (or wired if preferred) connection to adjust all the settings that are available at the handle, plus much more.  Enhanced control features include:

Assigning an expanded list of input or output functionality to any I/O point on a Q2 or iQ2 unit.  This flexibility will greatly reduce the need for costly, time-consuming custom programs.
Setting up to 4 different out-of-the-box virtual limit sets.
Performing software upgrades to keep your unit up to date with the latest features and import or export settings to save on setup time for multiple-unit installations.
Powerful diagnostic tools including a new date and time-stamped fault history for easier troubleshooting.
Optional G-Link Insights package for building cloud-based dashboards (available as a custom programming package).
This is in addition to the existing features:
The perfect blend of high speed, productivity-boosting performance, and ultimate precision placement in one lifting device.
Float mode enables the user with ultra-fine, hands-on part control for precision placement of any load while significantly reducing the potential for costly damage to the part being lifted or surrounding equipment.
Input/output functionality with standard features that allow the intelligence of the G-Force® or Easy Arm® to elevate the intelligence of the total solution such as the anti-drop functionality for tooling control.
Virtual Limits provide a powerful error-proofing tool for any application and eliminate the possibility of product damage from impact.
This cutting edge technology makes programming, using, and monitoring the G-Force® and Easy Arm® a breeze.  Additionally, all units may be supplied with G-Link Smart Connect that enables the G-Force® and Easy Arm® to share data or communicate across a network with a wired or wireless connection.  An optional G-Link Insights package allows you to customize Cloud-based data to build dashboards based on specific customer parameters.
Smart Connect User Interface
Smart Connect User Interface
Use our vast product knowledge to your benefit
and let us help you select the right system for your job.
We are Canada's leading supplier of high-performance lifting solutions, offering quick delivery and installation times backed by the industry's best warranty. Contact us today to arrange a consultation, (204) 837 8367 or Toll Free at 1 888 317 8880.