We provide custom vehicle exhaust extraction systems,
commercial and industrial, which ensures clean air
in YOUR work environment.
Protecting your service bay, workshop, or warehouse environment from noxious fumes and particulates, including diesel exhaust, is a major concern for short and long-term employee health and safety. Poor air quality has a direct link to worker's health, in particular, the lowest levels of carbon monoxide can adversely affect a person's well being. Vehicle exhaust capture systems by Acculift are the most versatile and cost-effective product on the Western Canadian market today for protecting your employees!

We offer a wide range of solutions – from the most demanding environments to standard shop layouts – that results in a clean and safe work area for vehicle repairs. From existing stations to new design-built, our startup and disconnect source capture systems are the recommended method for controlling exhaust emissions in your work environment.
Vehicle exhaust fumes are a hazard in vehicle repair workshops, car inspection stations and alike. Don't let the cold weather force you to close your doors to proper ventilation, we can help.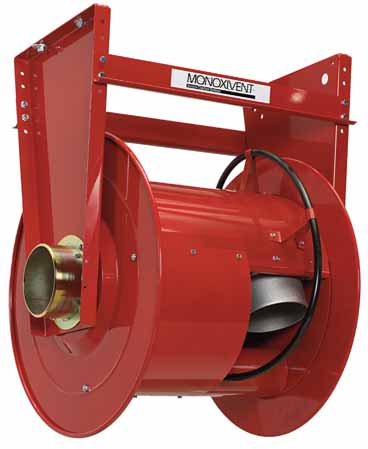 Air filtration systems for exhaust extraction can be designed for any type of vehicle – from cars to trucks to semi's to tractors to front-end loaders. Snowmobiles and motorbike have exhaust during repairs and need extraction, too. We offer off the rack and customized solutions for gasoline and diesel exhaust fume extraction. Fume extraction systems can be installed in new or existing shops that focus on bus and truck repair, auto repair, farm repair, agricultural dealerships, motorcycle and ATV repair, light or heavy equipment repair, service facilities, aircraft repair shops, schools and colleges, marine and military facility applications, and more. Let us help you select the proper hose for your needs.
A business that cares about worker safety should be a safe, clean and well-organized workshop. Acculift has cost-effective products and complete system solutions for complete vehicle exhaust fume extraction solutions. We can help you all the way: from designing and planning to installation, service, maintenance, and replacement hoses for existing systems. Most clients contact us to determine the correct hose for their application. There are many hose types to choose from and we will help you select the correct one for your particular needs.
The most effective method of capturing vehicle exhaust fumes is to capture them at the source. Capturing the vehicle exhaust gases provides a safer and more pleasant working environment especially during the winter where heating costs require closed buildings. It minimizes air removal and movement reducing required investment in air handling equipment and it reduces energy consumption.
Installing an extraction solution from Acculift creates a better atmosphere for staff as well as for visitors.